Kids Birthday Party Favors
Party favors for a child's birthday party can be full of energy and lively fun, used as a thank you and an attention-keeping tool for the kiddos all in one. You can really bring out the kid in yourself as you put together exciting party favors for a little one's birthday party!
Favors that also serve as activity
First, let's talk about how exactly you can provide a favor for the kids that actually serves as a party activity as well. DIY kits that include the kids creating something actually in turn becomes the kids creating their own main party favors. For instance, if you have an all-girls birthday party, you might decide on doing a bead-making activity. The end result is a bracelet or a necklace that the guests made through the activity in which you provided the materials. Other fun options are cupcake decoration activity, or a craft station to make a photo frame. For an all-boys party, an airplane building kit, or decorating their own superhero mask could be an ideal favor/activity. This also becomes a memory for the child as they will take home what they created and it becomes part of their life!
Mixed Party Favors
If you're doing a mixed party with boys and girls, try to give the girls slightly something different than the boys in regards to favors. This might be something like colors of your favors or the bags you'll be putting the favors in (i.e. pink for girls and blue for boys), or it might be characters (i.e. Barbie for the girls and G.I. Joe for the boys)
Must-Have in Party Favors
There are some sure basics to follow when getting party favors together for your kid's birthday party. Noisemakers are a must—and you want to keep them with the theme of the party. Blowouts are especially popular with children and so are kazoos. Next to the noisemakers, you'll want to include some treats with your party favor stash. Mini-packs of M&M's and skittles, or miniature-sized candy bars work great for this. Jelly beans are a classic too and is always popular with children with it's fun colors. One more basic to consider in your party favor set is a little something for the parents of the child attending the birthday party. This doesn't have to be a big something, but it's a nice and thoughtful thank you. A sweet card with a simple, personal thank you note inside is a great idea, or maybe even a DIY coffee mug personalized with "Mom" or "Dad" on it.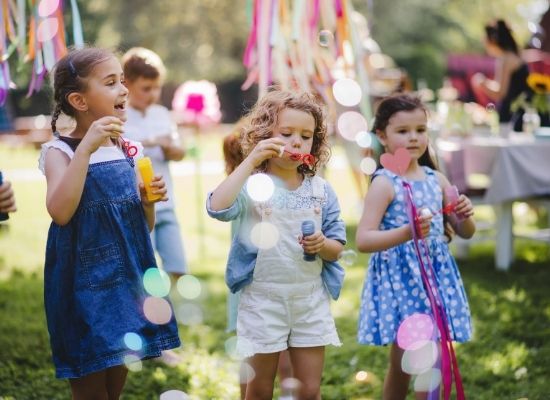 There is literally a plethora of options of party favors for kids and what's really amazing about all of these choices is that they can truly be personalized into whatever theme or motif you need for your child's birthday party. Bubbles are a classic, yet really fun favor, along with Plato, Yo-Yos, Slinkys, and miniature travel games like Hungry Hungry Hippo or Connect 4. For the really creative itch, you can put together a set of favors like a crayon coloring jumble complete with a small pack of crayons and a coloring book. A take-along s'more set with all the makings the kids need for s'mores is also a neat and scrumptious favor. Or how about miniature chalkboards with colorful chalk? All of these items can be found at super affordable places like dollar stores, so you are not breaking the bank!
Affordable Party Favors
Speaking of affordable favor options, when it comes to your presentation for these gift favors, don't spend oodles—if any—of money! What's really great about kid birthday party favors is that unlike older ages, it's really more about what's easiest to open and what's most practical to get the favors home. Brown bags with a cute name labels and a maybe a ribbon is more than enough to hold your set of kid birthday party favors. Add some flavored popcorns, or marshmallows and homemade cookies that will fill the bag! To further help yourself stay organized with the favors, a blue ribbon for boys and pink ribbon for girls on the favor bags is a good idea as well. It also helps to keep the bagging of the favors simple for when you have an off-site birthday at a venue other than your home so that nothing gets lost!
Teen Birthday Party Favor Ideas
For a teenager's birthday party, you have vibrant and colorful options that you can work with.
First, you'll need to decide if you would like your favors to be disposal, keepsakes, or a little bit of both. Mason jar favors are all the rage right now and there are tons of ways to turn these into party favors for your teenage guests. Mason jars can be painted, decorated with buttons or glitter or ribbons, and filled with candy or small favor items. Mason jars are a perfect palate for whatever theme you're working with, and they are inexpensive. They even come in any size you need for your favors!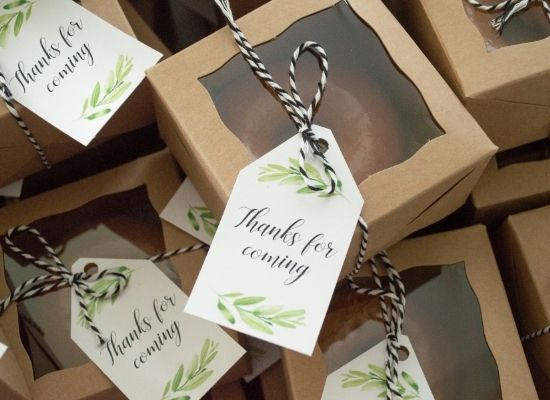 If you go for a bagged or boxed set of favors, you can fill them up with individually wrapped candy, delicious donut, gel pens, chapstick, sunglasses, or playing cards. Any of these can be personalized as well with the name of your birthday teen guest of honor, or the guests themselves. Also make sure to throw in noisemakers in your favor goody bags that the teens can use during the birthday party. Whistles, kazoos, party poppers, and blowouts are classic and lively noisemakers that no teen birthday party should do without!
If you decide to keep your noisemakers separate from your party favor bags, then wait until the end of the party to give the favor packages to the guests. This way, there's no chance of your teenagers losing their gifts before they leave the event.

Adult Birthday Party Favor Ideas
As the host of an adult birthday party, coming up with party favors for your guests can be the most fun part of the entire planning process. Unlike younger-aged birthday parties, adult favors are something that you want to make a keepsake, and less disposable.
When choosing the favors for your party guests, keep your theme in mind. You're going to want to incorporate this into your favors and you are also going to want to use it as the primary flair for your presentation of the favors—i.e., the gift bags, boxes, or containers you choose.
There are tons of options as far as adult birthday party favors go! Glassware is a really popular option for party favors as it serves as a great keepsake that your guests will continue to use. Barware like shot glasses, flutes, wine glasses, and steins personalized with your party theme are universally loved favors. Stadium cups are a fun gift as well, and as a bigger plus, they are durable and unbreakable.  Accessories for the home or kitchen specifically are highly favorable gifts for your adult party guests. Wine stoppers, coasters, candle holders, koozies, and keychains can be personalized any way you choose for your guests and are extremely usable long after the party is over.
Candy is also a wonderful filler for your party favor gift bags. Candy bars, coffee, and cheese plate packages tend to fit whatever theme your adult birthday party holds, and they are a great little surprise alongside the gift favors! When you spend so much time and effort on a great birthday party for your adult guests, you want them to leave with something they can put in their homes and always remember how amazing the event truly was.